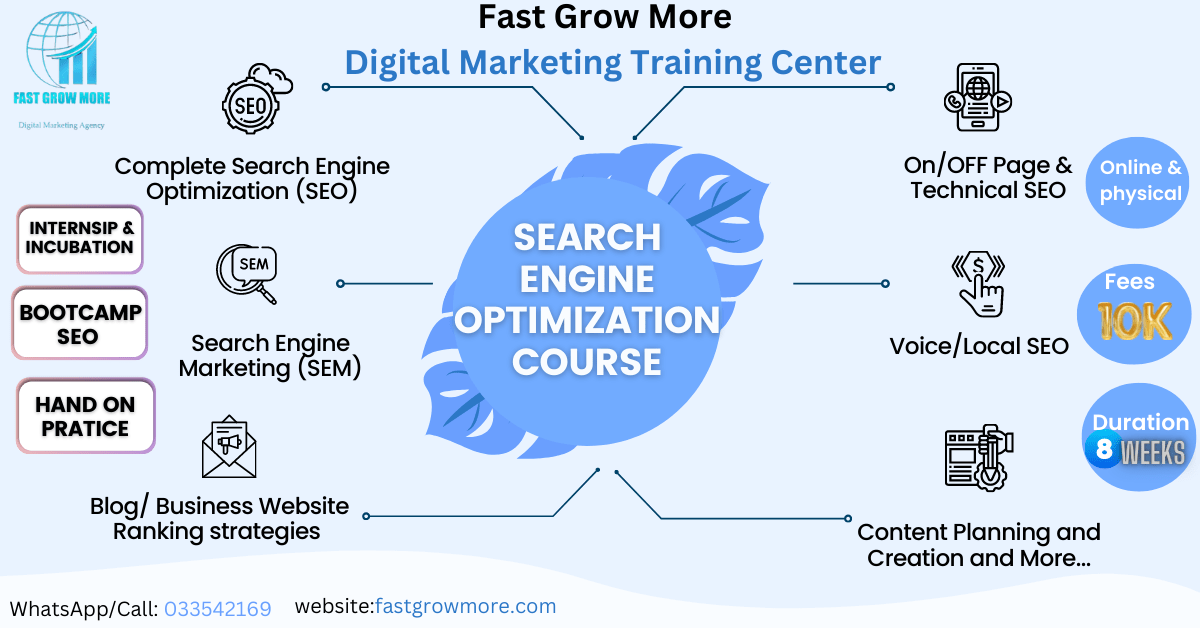 Are you Business Owner/Startup or Learner(students) so this course is for you.
Rank Your Business Website or Profile on Google and Get Business and Clients. Locally and Internationally From Google, Maps, Social Media and LinkedIn etc.
In SEO Boot Camp we Offer Complete SEO Training and Outline is:
*On Page SEO
*Off Page SEO
*Technical SEO
*Voice SEO (For AI Assistant Devices)
*Local SEO (Google My Business Complete)
*WordPress & Shopify Website SEO
* Online Store or Amazon Store
*Social Media Optimizations (Facebook, Instagram, LinkedIn and more)
* How to get Clients Through Social Media and From Freelancing Platforms.
Join Bootcamp Now: wa.me/923354200169
Call/WhatsApp: 03354200169
Office Address: shaikh yaseen trade center first floor office 03 Arbab road stop Peshawar.
Search Engine Optimization Course 

o     What is SEO?
o     How Search Engines Work?
o     Understanding SERPs
o     Technical SEO, Onpage SEO & Offpage SEO (Relevance + SEO-friendliness & Popularity)
o     White hat SEO Vs Black Hat SEO Vs Grey Hat SEO
o     Introduction to Keywords
o     Keywords Research (Relevancy, Searches, Competition)
o     Long Tail Keywords Vs Short Tail Keywords
o     Keyword Clustering or Grouping of closely related keywords for every webpage
o     Keyword Cannibalization
o     Analyzing Competitor websites for Keywords (Spyfu)
o     On-Page SEO Optimization
o     Keywords Placement
o     Anatomy of a SEO friendly webpage
o     Descriptive URLs
o     Title (keyword + USP | Brand name)
o     Meta Description
o     Meta Keywords
o     Heading tags, h1,….h6
o     Contextual Internal Linking
o     Image Alt Tags
o    Technical SEO
o    Meta Robots (admin pages/ backend pages, private pages, duplicate pages, search pages, dynamic URLs)
o    Canonical Tags
o    Pagination Tags (WP-Paginate Plugin)
o    Canonicalization Factor
o   Redirects (301, 302, 404)
o    Robots.txt
o    Sitemap.xml
o    SEO related HTML Tags
o    Clean Indexation
o    WordPress SEO
o    Yoast SEO Plugin / rank math Plugin
o    Optimize webpages
o    301 redirects (plugins)
o    WP-Paginate (plugin)
o    Redirection (Plugin)
o    Social Media Markup (Facebook Open Graphs & Twitter Cards)
o    Google XML Sitemap Generator (Plugin)
o    Robots.txt (WP Robots txt)
o    Insert Header & Footer (Plugin)
o    WP Smush (Plugin)
o    WordPress SEO Continued…
o    Woocommerce Google Analytics Integration (Plugin)
o    External Links (Plugin)
o    Easy Https Redirection
o    Off-Page SEO
o    What are Backlinks?
o    Quantity, Quality & Relevance
o    Backlinks Profile: Relevance, Diversity and Velocity
o    Types of Backlinks
o    Dofollow VS Nofollow (rel="nofollow")
VS Mentions
o    How to Get Value from Nofollow Backlinks
o    Link Building Do's & Don'ts
o    Natural Link Building (approx. 80% dofollow, rest nofollow & mentions)
o    Anchor Text Distribution
o    Pages Link Distribution
o    DA, PA, Link Juice (value)
o    Link Building Velocity
o    Freshness Factor
o    Anchor Text Distribution
o    Types of Backlinks
o    Search Engine Submissions
o    Top Local Business Listings
o    Top Directory Submissions
o    Top Article Directories
o    Niche Relevant Blog Comments
o    Niche Relevant Forum Posts
o    Top Microblogging sites
o    Top Q & A Websites
o    Top Infographics & Slideshare websites
o    Content Marketing (Guest Blogging, Content Syndication, Content rewriting)
o    .edu, .gov Backlinks
o    Social Profiles (Profile Link Building)
o    Top Video sharing websites
o    Social Media (Social Signals)
o    Web 2.0 (WordPress, Tumblr, Blogger) (30/70 ratio)
o    Blogging
o    One-tier Backlinks Vs Two-tier Backlinks
o    Types of Backlinks to AVOID
o    Private Blog Networks
o    Competitors Analysis and many more.
Google my business complete (local SEO)
Google map verification 
Voice SEO
and much more…