Leading web Design Company in Dubai
leading web design company in Dubai, with offices in Dubai, Abu Dhabi and Sharjah. We have been offering professional web design services throughout the UAE and beyond since 2019.
Fast Grow More is website design company and digital agency based in Dubai. Our skilled in-house team provides website development, Magento e-commerce, mobile applications, social media & SEO services. We have extensive experience and a track record that ensures your website connects meaningfully with your customers. Our approach looks beyond immediate business needs to frame your website design & digital marketing project as an ongoing extension of your Brand's core promise.
Our portfolio includes designs for individuals, local small businesses, startup companies and global enterprises. So, if web design is your concern, we've got you covered – whether it's building your first website or refreshing an existing one with responsive web design.
We've worked with numerous brands, SMEs, MNCs, government entities, healthcare institutions, and celebrities on over 1250 projects. We are experts in all aspects of website development and design. Get the most out of your website with our result-driven website design services.
Our Core Web Design Services in Dubai
Website design is not merely about bringing ideas to life. It has to put your business in the best light possible as well as grab attention, engage visitors, and convert visitors into customers. Above all, it has to be search-engine friendly and responsive. Are you looking for web design services? We can be the best web design agency in Dubai for your brand. No matter where you are, develop your website with us. Check out our web design expertise:
You may be a business investing a lot of money in PPC and SEO. Because of this, you may have thousands of visitors flocking to your website daily as well. But, how many of these visitors are really sticking around, interacting and transacting with your website? This depends on the design of your website. A good corporate website design makes all of this possible, plus, will help customers build trust with your brand, inspire them to subscribe to your newsletters and buy your products and services and whatnot. Know more about our corporate web design services.
eCommerce Web Design
The eCommerce industry is flourishing with almost every business making the move towards digital. In such a saturated market, your eCommerce business can only stand out if your website is well-designed and user-friendly. At Global Media Insight web design dubai, we understand the evolving trends and the power of websites in taking your eCommerce business to the next level. Our experience working in the eCommerce industry enables us to create designs that are action-oriented. We offer highly customized design solutions for e-commerce websites, like layouts optimized for increased conversions, planned page appearance based on customer purchasing trends, product showcasing, promotional banners, and much more. We create eCommerce websites that are responsive, functional, and support your business growth.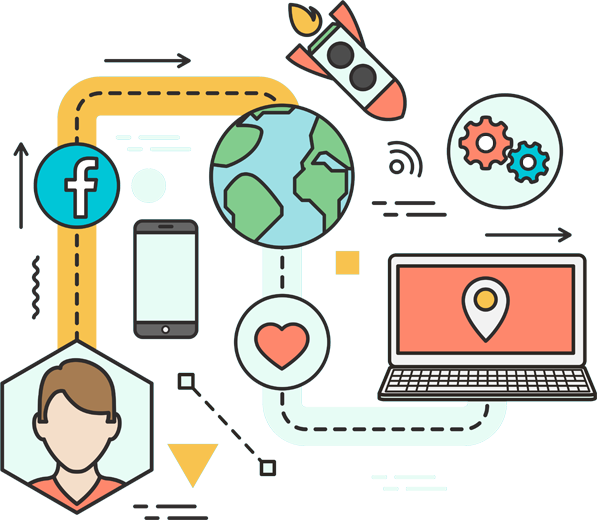 Brand Microsites are a form of focused websites with minimal pages that are usually built to promote a single product or a service from the brand. They can offer businesses a remarkable form of marketing focus that allows them to advertise and retail their products to a specific set of customers through specific channels. For customers, brand microsites can be a simplified online point-of-contact where they can learn about, access, and interact with the brand regarding specific products. We can offer you design, development and content support for product-focused, region-focused, search engine optimized microsites built with targeted strategies to improve sales.
WordPress is a highly flexible open-source, secure, and user-friendly CMS platform that includes a plethora of fantastic features. With nearly a quarter of the world's websites running on the platform, it's not a far-fetched assertion to argue that WordPress powers the internet. WordPress can be used to create everything from single-page websites to massive, multi-section e-commerce websites with hundreds of products. We are WordPress website design and development experts who will assist you in utilising the most popular CMS platform to achieve the greatest outcomes for your company. Our WordPress developers and designers are highly skilled resources who excel at producing optimised and appealing websites!
A professional-looking personal website design is required for developing a personal brand, whether it's a travel blog or a portfolio website. Unlike other websites, which try to convert visitors into buyers, a personal website aims to create subscribers and adoring followers. We at Media Insight web design dubai have produced personal websites for a variety of clients, so we understand what it takes to assist you in marketing yourself as a brand. Learn more about our custom website design services.
It is a package in which we will handle all of your marketing collateral needs, such as website design/redesign, brochures, presentations, infographics, mailers, logo, videos, and other promotional materials. As a creative branding agency, we think that everything must be consistent and complementary, and that a compartmentalised approach will not aid in the development of a brand. This is an excellent service for any organisation trying to establish a corporate identity.